Written by Justin Libigs
Friday, 03 September 2010 06:31
Craig Gauss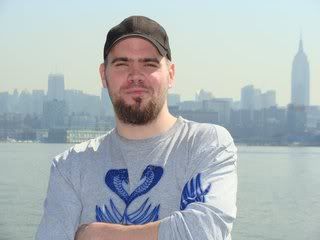 Born August 31st 1973
Spooky Dudes Paranormal Investigations Founder 
    Craig Gauss is from Wisconsin Rapids, Wisconsin. "When He was younger he always felt like there was some sort of "ghost" in the upstairs of his house. He would hear noises when he laid in bed, footsteps coming from the upstairs. His dog would some times sit at the bottom of the stairs and just stare up at the top of the stairs. Other times he would hear the dog chasing something up and down the stairs hall. He always had an uneasy feeling when he was up there, all the way untill he moved out when he was 16. He never said anything to anyone as he didn't want to look scared.
    In his later teens his mother opened up to him about some experiences she had both "ghostly" and "psychic." He finally let the cat out of the bag about the old house. Nothing was really said other then his older sister who had a room up there felt as if something would watch her from time to time.
    His interest in the paranormal was always there. Any paranormal show on TV he had to watch. He read quite a few books on the paranormal, most of them being books on hauntings in Wisconsin. One included a home that his mother had an experience in.
    When his grandfather passed away he and his mother felt as if he would come to visit from time to time. The smell of his pipe, the comfort he used to provide always seemed to come back whenever the family was having issues.
    As time went on his interest stayed at about the same level intil a friend of his started talking about experiences and ghost stories he had heard. Then his interest went up knowing someone else had the same interests as him.
    Finally he found a posting on MySpace for an event at the Stanley Hotel in Colorado and things just blossomed from there. Waverly Hills, Gaither's Plantation, Dannybrook, The Palmer House, some local investigations, The Queen Mary, and many other paranormal events and locations occupied his time. many people from the paranormal have become like family to him.
    He has worked with Dark Forest Paranormal taking part of their larger investigations, he also started his own group Spookydudes Paranormal Investigations. Craig is a great investigator and brings a lot to the table with his knowledge and photography skills.
Click here to check out some of Craig's photography work or check out Craig's Photos Galleries here on the site.
Last Updated on Thursday, 23 February 2012 07:13