Written by Justin Libigs
Tuesday, 16 February 2010 10:01
 Waverly Hills Sanatoruim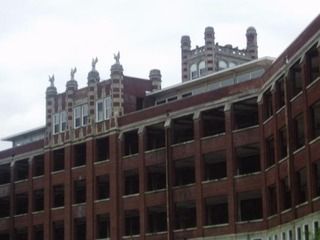 Waverly Hills is located in Louisville KY. This is one of the most haunted locations in the country. We investigated this location in May of 2009 and Waverly Hills didn't disapoint. Judy and Nick were followed by a black mass in the hallway on the 4th floor. The mass even blocked out the light of the exit sign above a doorway. We captured several EVPs, and even heard a disembodied laugh on the 4th floor. It definitely seemed something was playing with us. When we went on the 5th floor we placed a ball on the floor. The ball would roll in a circle, but only when we sang the song "Ring Around The Rosie". When ever we stopped singing the ball would stop moving. It would promply start rolling again when ever we started singing. Watch this location in web Episode 3 of "Relatively Haunted"and a follow up investigation in an upcoming episode.
Here's a little taste of what we found during our second investigation of Waverly Hills. This photo seems to show a doctor and a patient, or a nurse? What do you see?
Full Size
Blown Up 
You Can Watch These "Relatively Short Clips" From Episode 3 At This Location.
To Hear The EVPs Captured At Waverly Hills Listen To The Video Below.
Last Updated on Thursday, 23 February 2012 07:58