Written by Justin Libigs
Monday, 09 August 2010 22:49
Fargo ParaPalooza
Location: 
Wingate by Wyndham
4429 19th Avenue Southwest
Fargo, ND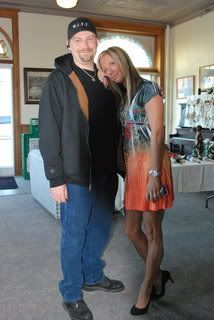 Details:
   Join Psychic/Medium Tiffany Johnson and Justin Libigs from Relatively Haunted as they entertain you on Saturday, January 22nd beginning at 1:00 PM at the Wingate Hotel (4429 19th Avenue Southwest) in Fargo, ND!

   Justin will be speaking (1:00 PM- approx. 2:30 PM) about using equipment and how to investigate more effectively. Pieces of equipment are just tools and should compliment and record investigations, not replace the human to ghost connection/communication. What really gets you the evidence is the interaction. Additionally, he will discuss, with the groups the ethics of paranormal investigation. To wrap up the lecture there will be a question and answer session where participants can ask Justin, who is a seasoned investigator, specific questions.

   Following Justin's presentation, Tiffany will be conducting a psychic group gallery session from 3:00 PM - 4:30 PM! This session is a audience participation psychic reading where Tiffany chooses willing members of the audience to provide a reading for in front of the entire group. The participants will see Tiffany LIVE in action as she not only "tunes in" to what is going on around the situation at hand! Not all are guaranteed a reading, but Tiffany will get to as MANY of those wanting a reading as time allows. Following the group gallery, Tiffany will have both her books Seeds of Thought and Picture Yourself Developing Your Psychic Abilities there for purchase and to sign.

Sorry if you missed this event. This was a really fun time and everyone
 was just awesome! Thank you! 
Last Updated on Wednesday, 21 December 2011 09:35